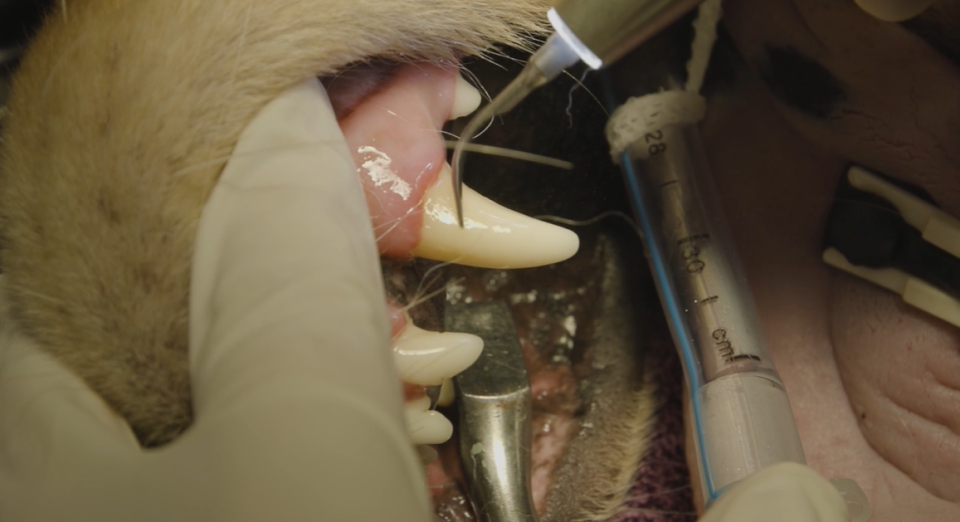 Cat and Dog Teeth Cleaning
Dental disease (or periodontal disease) is the most common disease in dogs and cats, and it can affect more than your pet's mouth. If left untreated, cats and dogs with dental disease are more predisposed to heart, liver, and kidney disease. Dogs and cats with painful gums and teeth cannot do some of their favorite things, including eating, without pain. This can affect their quality of life and your relationship with them too. Early stages of disease are reversible but later stages often require extractions or other advanced surgical procedures. Your pet's teeth and gums should be checked at least once a year by your veterinarian to check for early signs of dental disease and to keep your pet's mouth healthy.
Knowing When Your Cat or Dog needs teeth cleaning
Pets are masters at concealing their discomfort and will usually continue eating despite significant pain. It is important to watch for any signs of an oral health problem. Any of the following symptoms could indicate that your pet has an issue that requires attention:
Bad Breath
Loose or broken teeth
Teeth that are discolored or covered in tartar
Red, swollen, bleeding gums
Excessive drooling
Decreased appetite
Difficulty chewing/eating
Facial swelling
Our Professional Dental Procedures for Cats & Dogs
Our veterinarians and technicians only perform dental cleanings on pets that are under sedation; this allows them to safely treat issues below the gum line and to perform tooth extractions, if necessary. You can trust that our well-trained team will use the safest measures for every procedure. Here's a step-by-step look at our oral hygiene procedures:
Oral examination looking for periodontal pockets and other signs of disease
Ultrasonic scaling of each tooth above and below the gum line to remove plaque and tartar
Extractions, if needed, for severe cases of periodontal disease where teeth are damaged, loose, or broken
Pain management, as needed
Polishing of teeth to smooth the enamel
At-Home Pet Dental Care
The most important thing you can do to prevent dental disease is at-home dental care. Regularly brushing your pets' teeth is the single most effective thing you can do to keep their teeth healthy between dental cleanings. For brushing to be most effective, it should be done daily or at least several times a week. Most dogs will allow brushing, but cats can be more resistant, and patience can be important.
If your dog or cat will not allow you to brush their teeth, talk with one of our veterinarians about alternative dental products, treats, or dental-specific diets. Remember that many pet products are marketed with claims to improve dental health, but not all of them are effective or good for your pet. Please contact our clinic for guidance on choosing the best product for your pet.
Did you know that dental disease occurs below the gum line where it's hard to see? Thankfully, dental disease in our pets is 100% preventable!
Contact us today at (601) 856-3589 to schedule your pet's oral health exam.